SiteSell Scam
And the Purveyors of Peril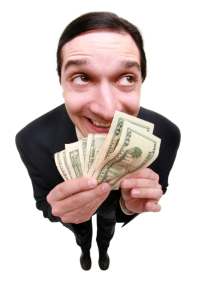 There is a particular group of people who want to keep the SiteSell Scam idea alive. On this page, we talked about certain types of SiteSell Reviews. Surprisingly, the biggest critics are not those who tried SBI!, got results, then decided it wasn't for them. Actually, once someone takes the time to learn it, use it, and experience the results, they tend to sing much more praise than complaint. No, the most censorious individuals are the ones who haven't used it at all, yet profit from criticizing it.
To be plain, critics who shout "Sitesell Scam" with inordinate intensity are members of a group(s) with vested interest.
Let's examine how this works.
At the time of this writing, a big factor behind this so-called SiteSell Scam phenomenon is a dismal economy. With an unemployment rate of nearly twice the historical average, it's no secret that people are out of work with rapidly mounting bills. People are hard-pressed to make some cash.
Eagerly, they turn to the Internet to dive in for a crash course. Many sign up for free (and sometimes sleazy) forums to learn the "biz," only to wind up being pummeled with every bogus get rich quick offer under the sun. They fall prey to the unethical and leave the gate with a case load of black hat ebooks, software and bad recommendations strapped to their backs.
Call them "slick," call them "easy," or call them "secrets," but black hat techniques are forbidden by Google. What can be even more misleading is that Google only sporadically enforces its guidelines. Because of this, dubious techniques only appear to be successful and the temptations to use them, great.
But the wailing is deafening when Google finally decides to remove from their index offenders of guidelines and abusers of search engine algorithms. Hours of work and dollars invested can be flushed away faster than one can Google the phrase "game over." Yet seldom do purveyors of must-have ebooks extolling the latest search engine secrets reveal such things, as it would mar their flimsy credibility and negatively impact sales. (Depending upon where one finds them, some dishonest, albeit compelling wares, are fabricated by desperate novices who threw them together just to pay their own bills!)
Once ensnared by fast-talking "gurus" who use psychological tactics to cajole and coerce, one may even be invited (or bullied) into partaking in alluring joint ventures. It is not uncommon to be offered ground floor or get-it-while-it-lasts opportunities in exchange for a "small" cash investment. This is the marrow of desperation because investors turn minion, using any lengths to regain their investment. Some will slam and slander, bully and bait and some will use googlebombs to oust a competitor and prey on its customer base.
Sadly true, those are the factual origins of the fabricated concept called SiteSell Scam. If you haven't already, browse the pages of this site to see how SiteSell's principles are polar opposites to opportunism, deceit and get-rich-quick schemes.
If you are deciding between Site Build It! and another product, be leery of those who viciously slam SBI!. Look closely, because you will always find vested interest. Ask yourself, are they minion hunting for prey or are they innovators with a superior product? And never be afraid to ask for proof.